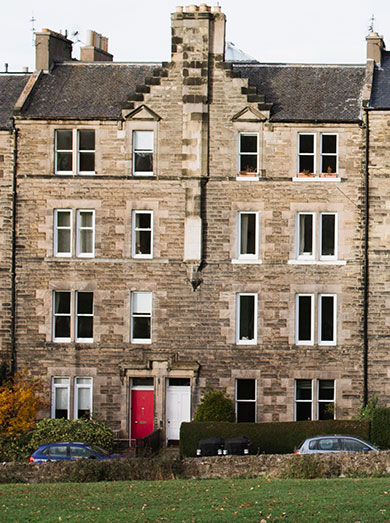 12 Aug

1st Floor, Ground Floor, Top Floor?

There is no wrong or right answer to this question however property prices can alter depending which floor they are situated on.

Why is this? This has less of a bearing with modern built apartment blocks which may be served by a Lift however the value and desirability of a flat within a traditional tenement block can alter notably.
The Pro & Cons
Ground Floor
Ground floor properties are favoured for the obvious reason they will most often provide the easiest access within the building. For those who don't like stairs or have a pet, a ground floor flat will be favoured. On the negative side the easy access can pose a potential security threat and lack of privacy in contrast to a 1st Floor or top floor flat.
Traditional tenements were not built with the same building materials and technologies we have today and therefore many traditional tenement buildings will suffer from rising damp. This is a very common and the majority will have received subsequent treatments however its recommended this be considered when examining the home report and viewing the property. In light of these reasons ground floor properties can be seen to worth slightly less in comparison with a mid or top floor flat.
On the other hand, a main door ground floor property can often dictate a greater value than a mid-floor property as it benefits its own exclusive entrance and more often will come with exclusive external space.
Top Floor
The threat of a security risk or lack of privacy are far less a thought when it comes to a Top Floor flat. Most likely to benefit from the best outlooks in contrast with other flats in the tenement a top floor flat will benefit the most natural light. There is also scope for development into the attic subject to planning consents and the added benefit of having no neighbours directly above you.
The downside to a top floor is notably the stairs you have to tackle on a daily basis and risk of any problems with the roof. In the event there is a problem with the roof you are most likely going to be the first to know and have to live with the brunt of it until fixed.
1st  Floor or Mid Floor Flat
1st and mid floor flats are often treated as the most desired properties for the simple fact they do not have the added first of security of rising damp which we affect a ground floor flat nor is there the direct risk of roof damage with a top floor flat. The stairs are often manageable however you have that lack of privacy in that you have a neighbour directly below and above you. Mid floor properties are particularly popular with investors as they can be seen to require less maintenance over the pest.
In summary there is no wrong or right answer however careful considerations when weighing up your options.